I had a walk around Livingston Designer Outlet and the Centre on Sunday past. Actually quite enjoyed the experience as it was quiet, easy to park and easy to get in and out of shops and with lockdown I hadn't had to endure the shops for a few months. Well, while I was walking around with my family trying to keep my 2 monkeys entertained while the better half browsed it was interesting to take note of what the retailers were doing to draw in customers.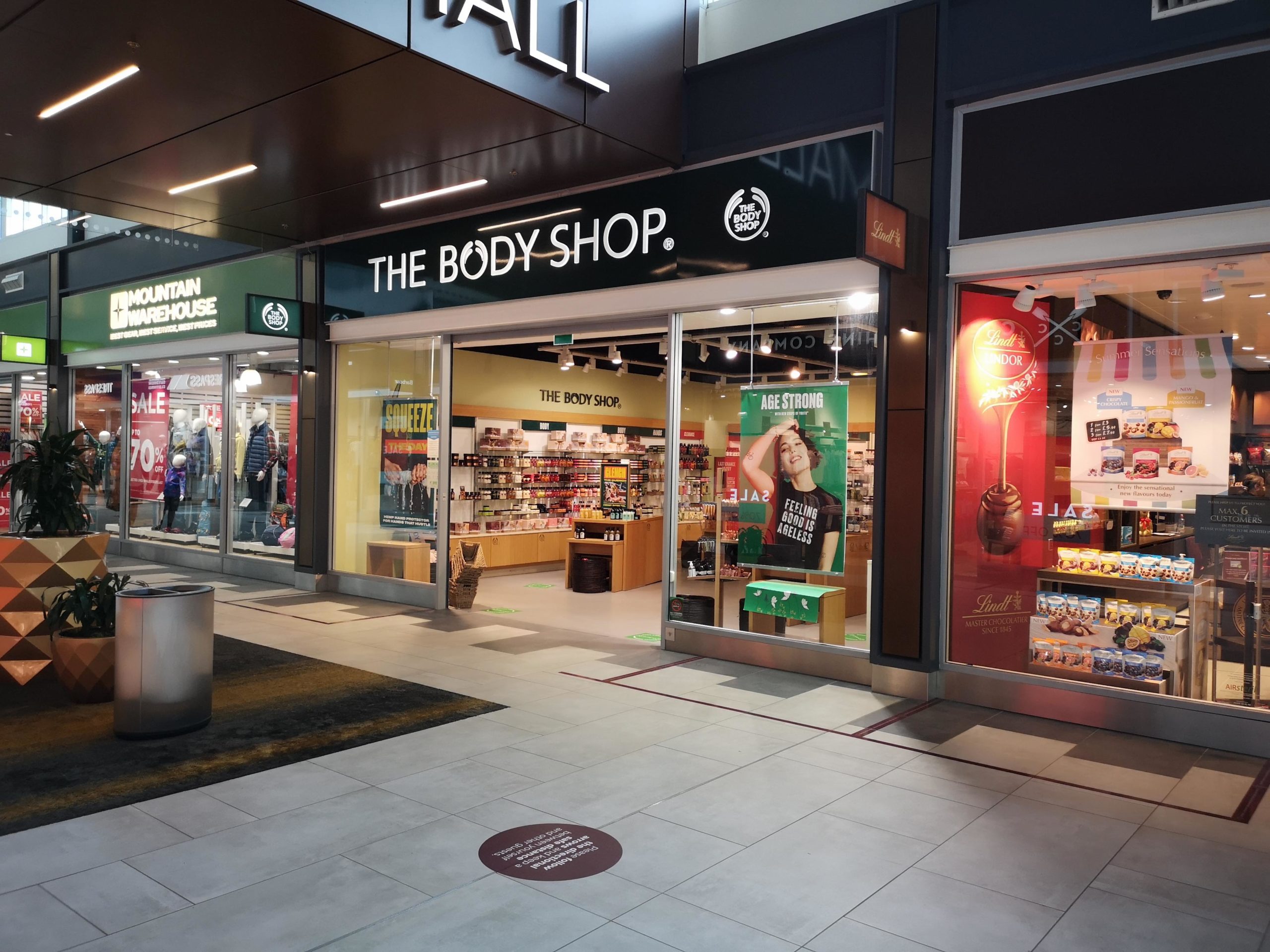 So you've got The Body Shop using hanging posters in their windows. The most simple solution for short term advertising. Very easy to change and very cost effective.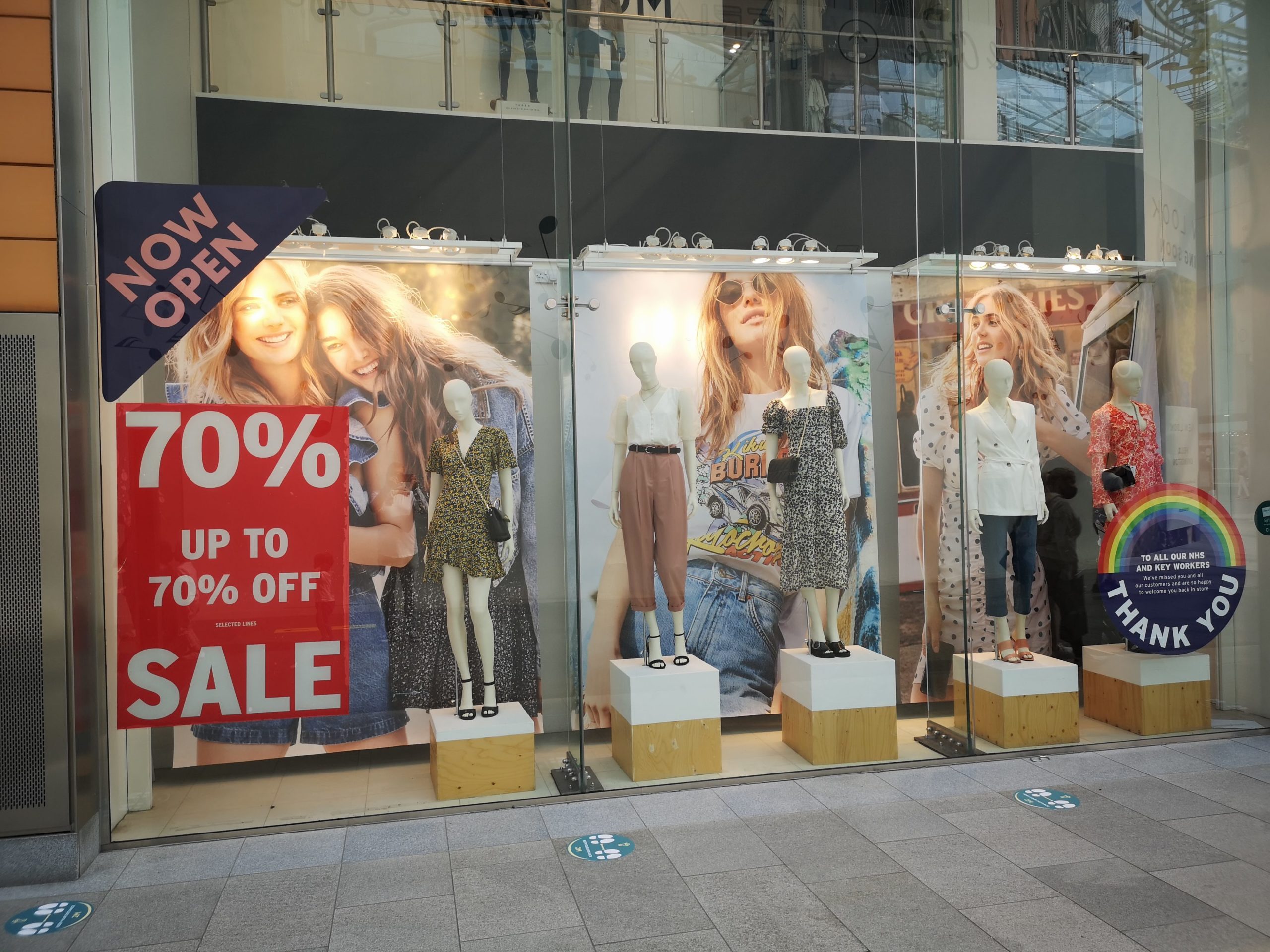 The SALE poster as you'll see is a pretty common site at the moment but they have beautiful images and dressed mannequins showing off their current range of clothes. The large images at the back of the window are fabric Silicon Edge Graphics (SEG) mounted into Tension Fabric System (TFS) frames. Would this make you want to go in and browse?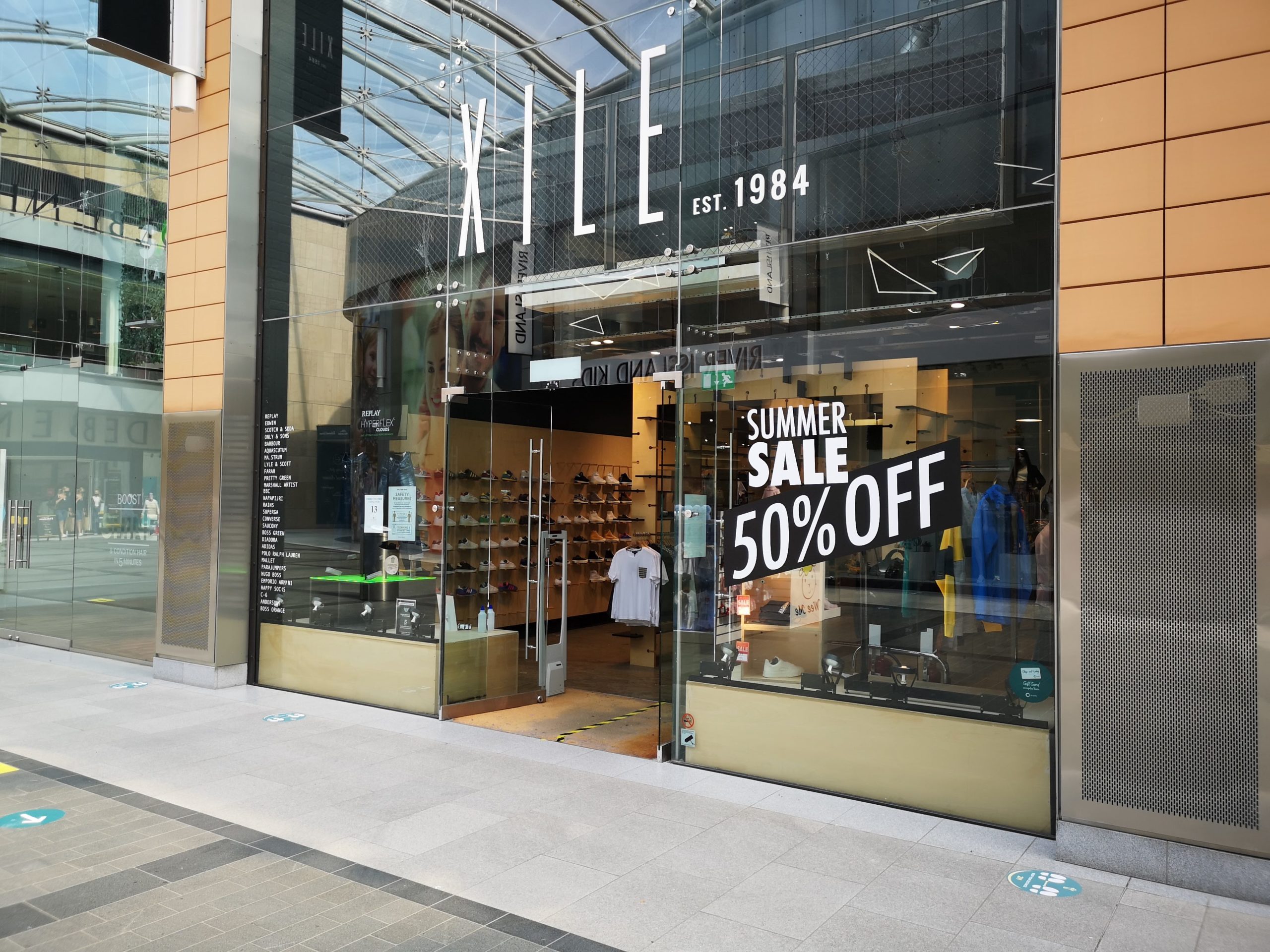 So another sale sign, this time at XILE who I think offer some pretty trendy clothes and shoes. The SUMMER SALE part is made using cut vinyl lettering and the 50% off is a sticker. Sometimes these are made with window cling making it easy for the staff to put up themselves. Cut vinyls depending on the size may need expert installation to get them looking perfect.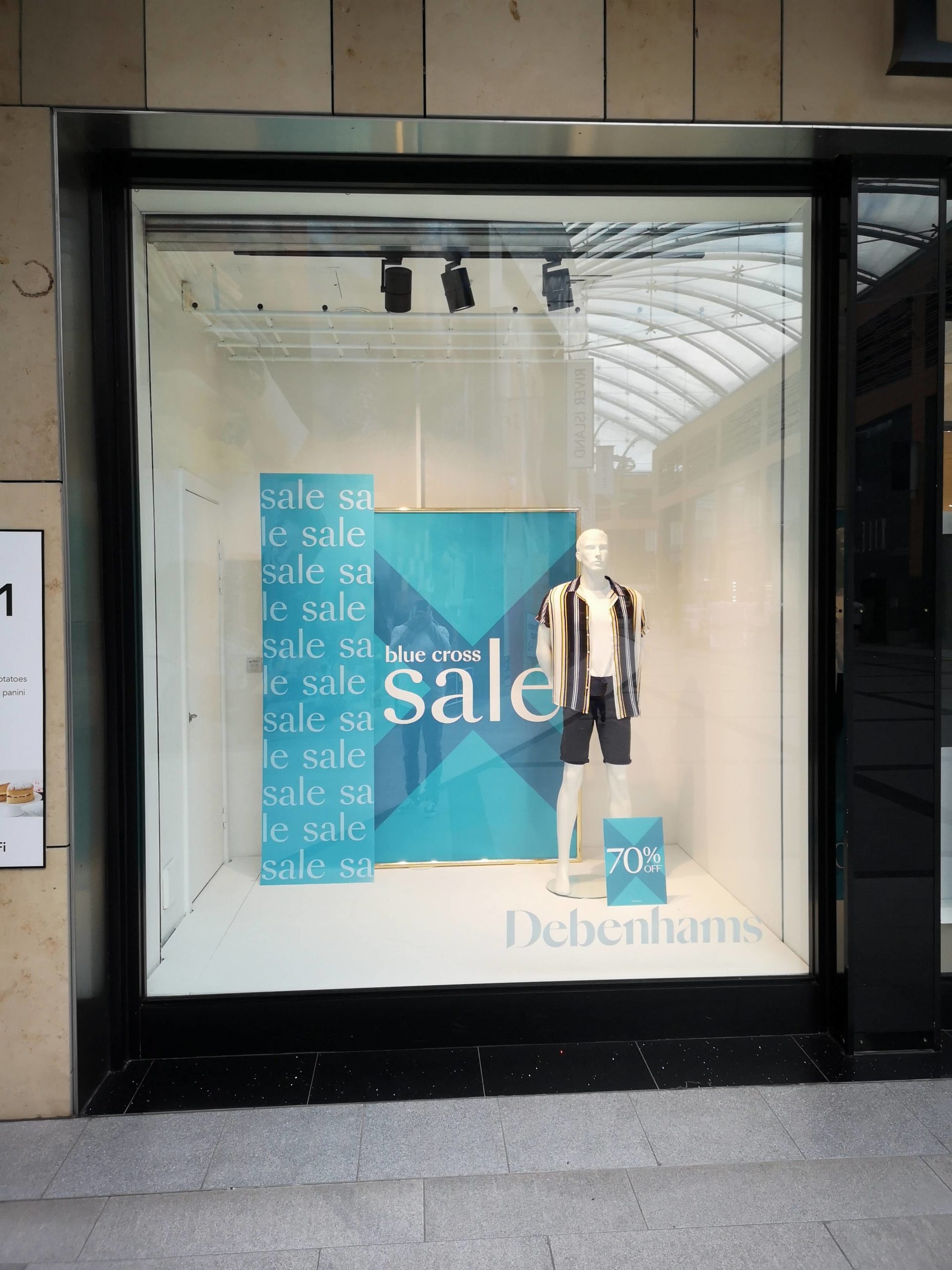 Well what do you know, another sale, the famous Debenhams Blue X Sale which is their max discount 70% off. I always thought that if they can sell a product at that discount the product must have been too expensive in the first place, but what do I know. Anyway the posters look like they're self standing rather than hanging this time. Not sure of the clothes would want me to walk in and buy though.
Check out all the pictures I took in the gallery below
When getting vinyl prints on Windows or signs it is really important to check what material your supplier is intending on using.
For most longer term applications (3 years plus) a polymeric vinyl should be used. This material is made in a different way to monomeric and doesn't shrink as much. So, if you imagine the print goes to the edge of the window then this material will stay there.
If a monomeric vinyl was used then over time it will shrink and the edges will start to lift. Once this happens the vinyl will start to lift.
The third type of vinyl is cast. Now this is the daddy of vinyls. Suitable for 10 years plus lifetime. You'll see these vinyls on premium signage and vehicle branding with deep recesses. This is because it is the hardest wearing but also this type of vinyl can be heated when installed and the memory changed so it moulds into the recesses. This ensures the vinyl does not pop back out like cheaper vinyls.
It is always advisable to laminate the print too. It is best practise to use the matching laminate. Ie use a polymeric laminate with the polymeric print.
This also helps stop the sun's UV rays effecting the vibrancy of the inks leading to better colours for longer.
Also be aware there are different adhesives. Permanent and removable temporary. Vinyls used for short term advertising are best with removable as they are easy to take back off.
Not that you'd be interested but in the trade to make life easier for fitting there are air escape patterns in certain adhesives which allows the air to flow out when applying. As pretty much every vinyl is applied by pros this is a mute point but if you did want to apply yourself then this makes life a lot easier to stop bubbling on application.
So there you have it, a little bit of helpful advice when choosing the right self adhesive vinyl.
If you're not sure you're getting the right material drop us a line, we're always happy to help ?